PRI ADDITIONAL SERVICES
All-Inclusive Energy Budgets
PRI has developed sophisticated software for the purpose of preparing detailed and comprehensive annual budgets (including local utility charges and taxes) for natural gas and electricity.
Over many years these budgets consistently have proven to be accurate and very helpful as they include total energy expenditure.
PRI ADDITIONAL SERVICES
Monthly Bill Auditing
Responding  to many clients' requests, Prospect Resources provides Monthly Bill Audits. The audit has three primary purposes
Usage Review:  PRI analyzes actual usage compared to expected usage based on the historical load profile adjusted to current weather conditions.
Bill Review: PRI verifies that the charges on the bills are consistent with the supplier contracts and the prevailing utility rates and various charges.
Budget Comparison: The audit compares actual usage and charges to projections provided in the budget.  The comparison is done on a month-by-month basis, as well as on a cumulative-to-date basis.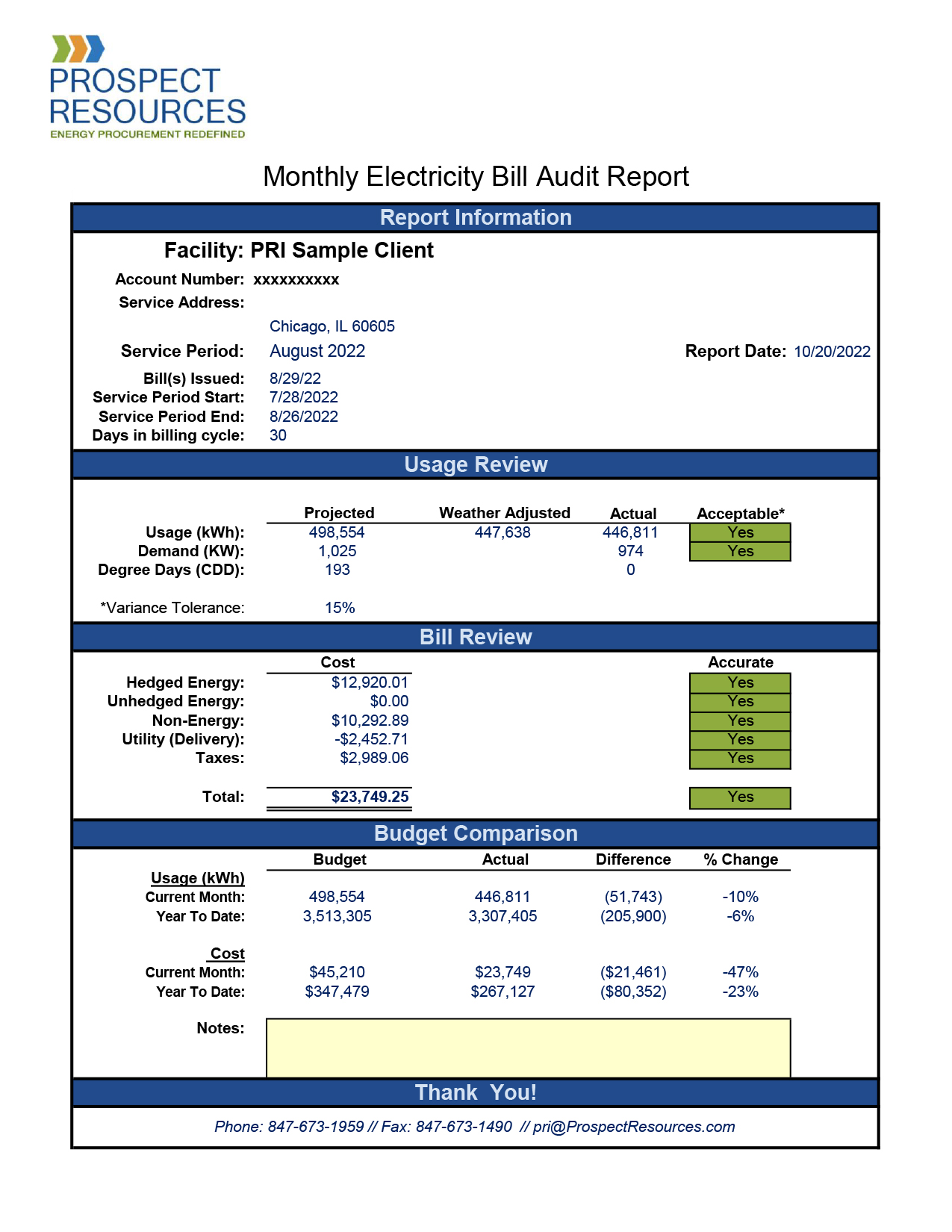 "Recently, upon request from LUC, PRI audited electricity charges on a series of invoices from a previous supplier. After comparing to contract and further auditing other bills, PRI discovered that LUC had been overbilled by approximately $700,000. The university has been able to reclaim those funds"
DAVID BEAL,
LOYOLA UNIVERSITY OF CHICAGO
PRI ADDITIONAL SERVICES
Client Portal
PRI's online portal lets you manage your energy portfolio 24 hours a day from anywhere.
Your energy Information is always at your fingertips. The portal lets you access reports, check bills, scrutinize energy usage, evaluate contracts, and review energy budgets.
Whether you have an immediate need for information from your energy portfolio, or simply need to review certain data points, your energy documents are always at your fingertips.
PRI ADDITIONAL SERVICES
Energy Benchmarking – Chicago
On September 11, 2013 the City of Chicago passed the Energy Use Benchmarking Ordinance.
Who is included?
Commercial and Residential buildings 50,000 sf and larger must now be in compliance and make annual submissions.
Upon request, PRI provides full service  – preparing proper documentation, collecting and entering usage data, and obtaining proper engineering certification when needed.
PRI ADDITIONAL SERVICES
Load Response
Call it Load Response, Demand Response, Capacity Reduction, or Active Energy Management – it is another dimension of PRI services.
Load Response is a program whereby a client is rewarded by the grid authority or utility for agreeing to reduce electricity demand at peak times. This program's popularity grows and diminishes in tandem with the price of capacity. Clients ask PRI to help them decide if and how much they can reduce electricity demand, and to choose an appropriate provider of this service.
PRI ADDITIONAL SERVICES
Evaluating New Technology
In  its trusted partner capacity, Prospect Resources assesses the economic viability of such projects as converting from electricity to gas, mini power generating stations, installing solar energy equipment, demand reduction technologies, and new energy storage batteries.